Fun and fulfilling online blogging courses with blogger/novelist Kerry Clare
Sign up for my newsletter and receive your free download – 5 MORE Prompts to Bring Back Your Blogging Spark
Course Offerings
Make the Leap (Next Offering: February 2021)
A one month guided and interactive course for beginners and experienced bloggers
Learn More About Make the Leap
Create an Inspiring Online Presence
A one-to-one consultation for writers and artists—even IF they're internet-wary.
Coming Soon!
---
Who am I?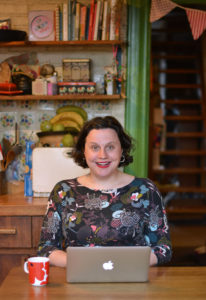 I'm Kerry Clare, and I provide online courses and consultation to bloggers (aspiring and otherwise), artists, writers, and entrepreneurs who are seeking direction in creating fun and fulfilling blogs that don't just fit their lives, but even make life richer.
Because blogging is all about blazing a trail and breaking the rules, my job is to help you resist the tiny/tidy boxes and find your own way toward a sustainable blog that not only showcases your business or creative work, but where you can find the confidence to use your voice and explore new ideas while challenging the toxic tone of online discourse with nuance, thoughtfulness and curiosity (i.e. your own small corner of the internet is going to make the world a better place).
Follow me on Instagram/ Facebook/ Twitter
"Without the weekly deadlines and the incredibly helpful feedback and guidance, I would have continued to only think about fleshing out my web site with a blog. It seemed unwieldy. Now it seems simple. "

Read more testimonials
Twenty Years of Blogging Experience
I have twenty years experience as a blogger, and have blogging about books and reading since 2007 at my popular literary blog, Pickle Me This.
From 2011-2015, I taught a blogging course at the University of Toronto School of Continuing Studies, and I also teach blogging workshops at literary festivals and training sessions throughout Ontario. And now with this new online program, I'm excited to apply what I've learned from nearly twenty years of blogging and from my experience as a blogging instructor to help you create the blog you've been dreaming of by empowering you to find and follow your own voice, to pursue your own curious avenues.
This way you don't get caught up in those small and limited cookie-cutter templates of what a blog should be, or the way a person ought to exist on the internet, and can build an online space instead that is your own unique creation, as original and wonder-full as you are.
---