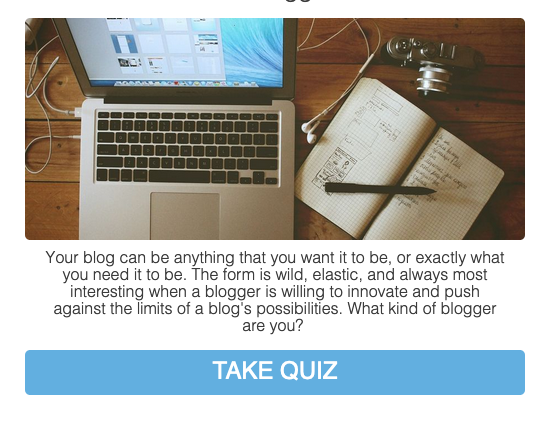 What kind of blogger are you?
It's a burning question—and you can take my quiz to find out.
And okay, to say there are but five kinds of bloggers is definitely reductive, but I give you these five different kinds of bloggers just to demonstrate how divergent people's different approaches to blogging can be. And to emphasize that these five categories aren't meant to be the end of the question of "how should I blog?" but instead the beginning of a process of the blogger gaining a broader understanding of their approach to and vision for their blog and then daring to venture forth to make/design/shape a blog that suits one's own creative purposes and even makes one's experiences richer.
Project-Adjacent Blogger: Your ideal blog is part of another project that you're working on—this is great for artists, writers, or entrepreneurs. You use your blog to keep track of your progress, to share interesting ideas and revelations about your work, and to incite interest in your project. (You can also do this kind of blogging on your social media platforms.) Your blog can be easy to maintain because—ideally—your central project delivers you content all the time and it can fit nicely into your schedule. Your blog can also help you maintain your passion, connect with a like-minded audience, and think through problems with whatever it is you're working on.
A Long-Form Blogger: Brevity is not for you, and Twitter is stupid and exhausting. No, your blog is all about depth and connections and who says that a blog can't have footnotes! You're driven to write your posts by genuine passion and curiosity, though you must be careful to pace yourself and not become too overwhelmed by the labour of your blog. You love that the work you're doing on your blog (deep and thoughtful) runs counter to everything that's so terrible about the internet. You do remember to break up your posts with images, however, with makes them much more reader-friendly. You might want to think about offering readers the alternative of receiving your posts via email as well, so check out some newsletter platforms.
A News-and-Updates Blogger: Truth: you're just not that keen on blogging. And that's okay! But it's great to have an easily-updatable part of your website and having a blog helps your website's search engine rankings too. You update your blog when you have news to share or an event to publicize. For you, the blog is a very practical tool.
A Dispatches Bloggers: Your blog is where you report back from the front, whether that front is an exotic locale (maybe you're a travel blogger!) or from amidst a pile of dirty laundry (maybe you're a mommy blogger!). Your blog is a way for you to stay connected with people in other places, and deliver the news of how it is where you are. Your posts are usually brief but frequent, and some readers might find them mundane, but those readers are not your readers then. One day you will look back and be very grateful for the record you've kept of this time in your life (instead of just posting your story as a Facebook update and sending it out into the ether…).
A Kitchen Sink Blogger: And by "kitchen sink," of course, we mean "everything but the…" Your blog is an array of your fascinations and your preoccupations—it's all a bit random, but YOU are the through-line. It's a bit self-indulgent, but shouldn't any unpaid labour be just that? This kind of blog is especially interesting (and radical) in a moment where online identifies are supposed to be tidy and streamlined. But not you—you're keeping the internet interesting. And what an excellent public service that is!