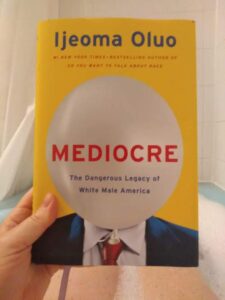 The foundation of my blogging courses are the gospels of imperfectionism, which is basically license to be human in public. And last night, while I was reading Ijeoma Oluo's Mediocre: The Dangerous Legacy of White Male America, it dawned on me how much imperfectionism is a privilege that people of colour don't always have access to. To be raw and unpolished in public, and still be taken seriously—that is white privilege (which is the very point of Oluo's book).
And so what can I do to change this? How can I help create space in the world for people of colour to be free to be as flawed and sloppy and uninhibited as I am in my blogging life? One thing I can do right now is reserve one free space in each of my courses for writers of colour on a first-come-first-serve basis.
My next MAKE THE LEAP intensive course runs this February, and any writers of colour who are interested in taking part are encouraged to reach out to me using the "Keep in Touch" link at the top of the page.